Events
Building a Sri Lankan Organic Farming Model
Key Take Aways from the Webinar Series organized by Renaissance Sri Lanka, MONLAR and Greenfem in October 2021
In April 2021, Sri Lanka banned the import of agrochemicals with the goal of making all agricultural production in the country organic. Within months of the ban, the country began to face a food crisis as farmers were not prepared to transform their farming techniques and resources to organic methods overnight.
Renaissance Sri Lanka collaborated with MONLAR (Movement of Land and Agricultural Reform) and Greenfem, and organized a series of webinars on the importance of agroecology, a specific form of organic farming, in October 2021. More than three hundred individuals attended the event.
The Way Agrochemicals were banned in Sri Lanka was the final Blow to the Downfall of the Country's Agriculture
In April 2021, Sri Lanka banned the import of agrochemicals with the hope of building a strong agro-economy based on the solid foundation of organic farming. According to former Sri Lankan President Gotabaya Rajapaksa, importing agrochemicals was not only a financial crunch but also one of the major causes of loss of biodiversity. This was because these chemicals did not much contribute to enhanced cultivation, rather, they led to a decline in yields by making the soil less fertile.
Those who were already advocating for organic and agroecological practices, welcomed this decision of government whole-heartedly. However, with that being said, the whole idea of restricting the import of chemical fertilizers was not just based on the fundamentals of building up a more sustainable agricultural system. Instead, the government had to make this decision due to several other macro-economic factors. The already failing economy of the country negatively impacted the foreign currency reserves. As a result, the government was unable to pay the necessary funds (36 billion LKR per annum) for fertilizer imports.
Unfortunately, within a few months post this ban, the country started facing a food crisis due to a lack of large-scale production. The key reasons behind this were poor infrastructure, insufficient funds, and inadequate knowledge among farmers and consumers regarding organic products. Moreover, the already failing economy, pandemic, high debts in the international market, and gradual depletion of foreign exchange added to this agricultural downfall. As a result, the country finally had to ease its restrictions on the import of agrochemicals, chemical fertilizers, and pesticides, which addressed the prevailing widespread food deficiency and farmers' protests emerging from the fear of less production without any chemical fertilizers.
Why Organic Farming, and Agroecology in particular, is needed for the sustainable Development of Sri Lanka?
Although organic farming and agroecology are based on similar fundamentals of preserving the ecology and both strongly combat the chemical based agricultural model, there are still some conceptual differences, that distinguishes one from the other.
Most of the organic food on display in one's local supermarket comes from factory farms that have no regard for the environment beyond the lack of use of chemical fertilizers or pesticides.  Instead of managing their farmland as the complex ecosystems that they truly are, large-scale organic businesses focus solely on producing as much food as possible, at any human or ecological expense.
One of the main differences between organic farming and ecological farming is that, unlike agroecology, if necessary, organic farming can be cultivated only for the purpose of profit.
On the other hand, agroecology goes beyond organic farming. Agroecology is based on the concepts of conservation, reproduction and biodiversity. Furthermore, agroecology has a holistic and ecological approach to farming, that considers people and the environment.
"It seeks to optimize the interactions between plants, animals, humans and the environment while also addressing the need for socially equitable food systems within which people can exercise choice over what they eat and how and where it is produced" (source: https://www.fao.org/agroecology/overview/en/).
Agroecology that incorporates indigenous agricultural practice, is the most trusted method since it does not impose any threat to humans, animals, and the environment. On the other hand, the current scientific method of cultivation using chemical fertilizers that were mainly introduced after the 'Green Revolution'(or the 'Third Agricultural Revolution' that marked the increase in crop production to a great extent by the use of chemical fertilizers, pesticides and hybrid seeds), fails to provide a non-toxic diet to the citizens. Basically, the use of hybrid seeds that depend on agrochemicals for higher yields impaired food sovereignty – meaning the right of humans to a healthy and culturally sound diet through a sustainable method.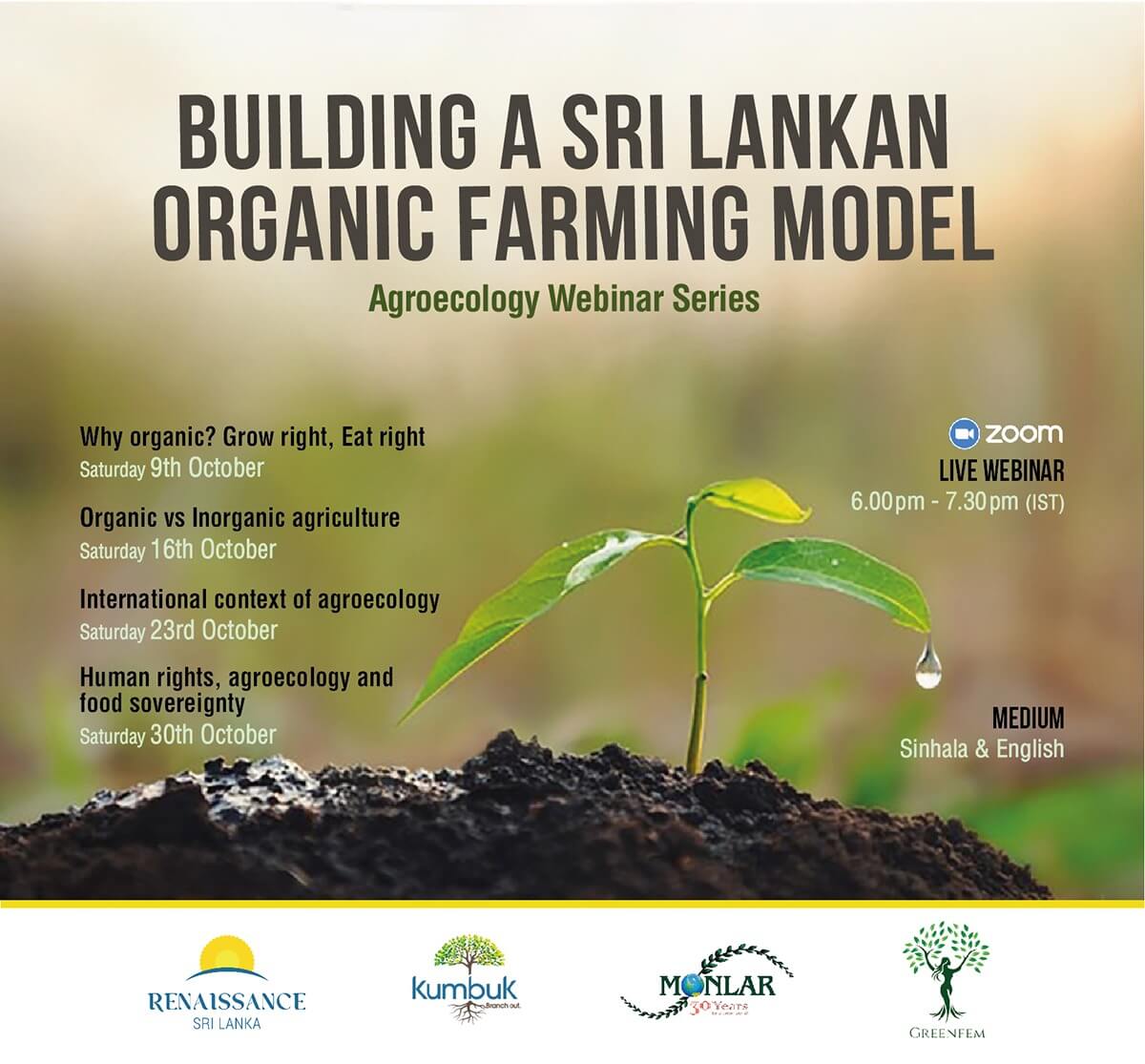 Keeping this in mind, Renaissance Sri Lanka collaborated with MONLAR(Movement of Land and Agricultural Reform) and Greenfem with an aim to educate the farmers, consumers, women, potential donors, and other stakeholders on the importance of agroecology, a specific form of organic farming, and a gradual transition to chemical-free food production.
For spreading awareness, a series of webinars were conducted every Saturday, from 9th to 30th October 2021, from 6.00 pm to 7:30 pm (IST). Over 300 people participated in this webinar series including several eminent global representatives from organizations such as PAN-AP, GRAIN, of La Via Campesina and Asian Farmers' Association for Sustainable Rural Development who enlightened the audience on the international context of agroecology. Each webinar comprised of four speakers and therefore a total of 16 speakers shared their thoughts on the significance of growing and eating right via agroecological farming, detailed the key differences between inorganic and agroecological agriculture and described the present scenario of agroecology in the international context. Furthermore, the webinar series also highlighted the importance of food sovereignty, and the human right to consume healthy food.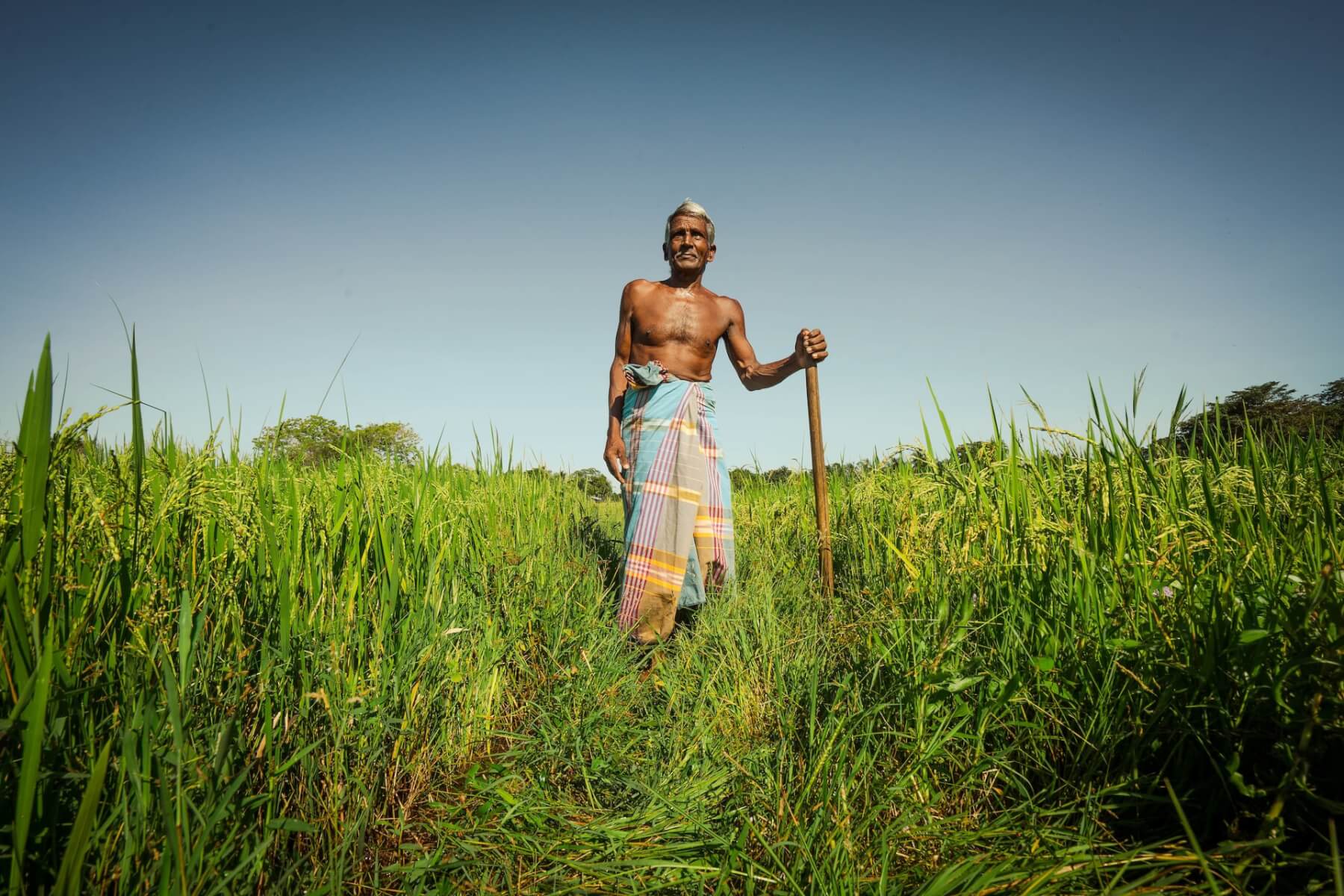 Food Sovereignty vs Food Security: Which one has the Upper Hand?
Undoubtedly, agroecological farming contributes to environmental sustainability. However, this also largely depends on the life and texture of the soil. Obtaining higher production of crops is crucial to compensate for the existing food crisis but it is important to understand that food security is not the only goal, rather food sovereignty that promises quality and healthy food to the masses. This perfectly blends with the vision of Renaissance Sri Lanka which encourages the consumption of non-toxic, chemical-free products by the masses. Hence, the focus remains not on faster delivery of food to the market, but rather on the delivery of fresh and wholesome hearty food.
Farmer's Resent and Resistance Towards Agroecology and Organic Farming
With the sudden ban on agrochemicals, farmers in Sri Lanka suffered a major financial crisis since prime export crops like paddy and tea rely on chemical fertilizers for mass production. At the same time, a few of the farmers who switched to organic farming were still facing challenges to market their products in the market. Getting the country-specific standard certificate for organic products is often costly and it becomes almost impossible for the farmers to get through this entire issuance process. In fact, intermediary groups took advantage of this scenario and instead of helping the farmers to obtain the organic certificates they started working as the 'middlemen' for earning extra profit. This negative involvement of middleman created huge resentments among the hard-working farmers.
Due to these overwhelming certification costs, packaging, and commissions at the supermarkets, the profit margins of the farmers were considerably low. The only way to mitigate this loss is to establish a direct relationship between these small-scale cultivators and consumers.
Benefits from Agroecology will contribute to the Future of Sri Lanka
While resistance toward organic farming in general still prevails, here are some of the benefits that can be possibly reaped by switching to agroecology.
Individual Benefits to Farmers
Agroecology opens a new door of opportunities of learning new skills for the farmers and the subsequent implementation of these skills in producing healthy and pesticide-free crops. This delivers a great deal of satisfaction to the farmers, and they feel more empowered with the responsibility of delivering healthy food to the masses. Furthermore, agroecology allows the farmers to harvest a more diverse set of crops.
Although currently, there are only a few eco-farmers, and the capacity to generate market surplus with organic food is still a question, we should understand that this is not due to agroecology or lack of farmers' skills. It is in fact, the negligence of the administration that so far has been unsuccessful in establishing a sustainable infrastructure for agroecology in Sri Lanka. So far, no action plan has been set up by the government to introduce agroecology in real-time farming.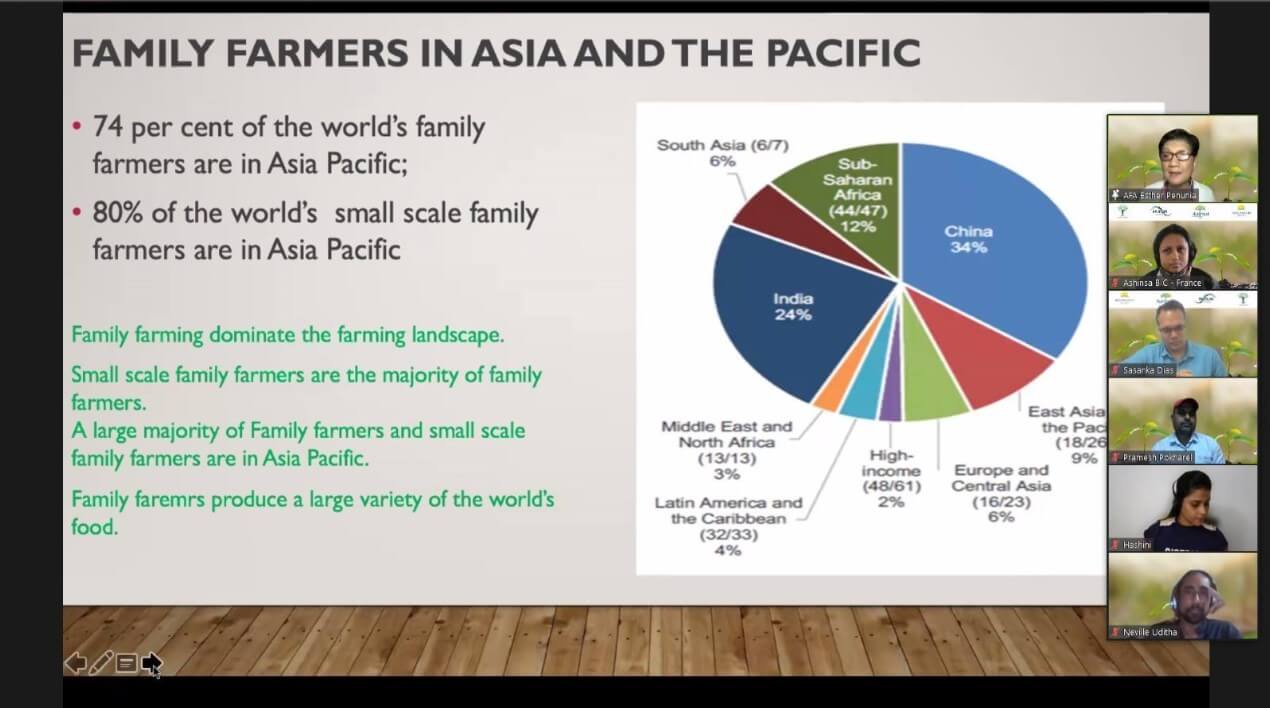 Environmental Benefits
Agroecology conserves biodiversity and minimizes the hazardous impact of climate change. It protects the soil from erosion resulting in higher resource utilization. As a result, the soil can hold more water supporting a better yield of crops. Furthermore, it also prevents groundwater and surface water contamination.
Social Benefits
With agroecology, a small cluster of farmers produces healthy crops that are consumed directly or with few intermediaries, by a large group of consumers. Obtaining quality food from these farmers establishes a sense of mutual trust among the producers and consumers. Due to positive word of mouth from satisfied customers, the farmers continue to have stable incomes. Additionally, farmers can sign a direct contract with the consumers and set a price for each bunch of these consumers.
The International Context of Agroecology
Agroecology has an immense global impact owing to the fact that as per the United Nations Environmental Program nearly 70% of the total global food comes from small-scale food producers. With an alarming increase in the hunger crisis across the world, it is time that we shift our focus to agroecology.
Due to the severe health deterioration of farmers by pesticide poisoning in the last few decades, there have been several movements in various parts of the globe to promote agroecology that has taken a backseat due to the large-scale development of commercial seeds markets, supported by agrochemical companies. Furthermore, to prevent the impending climatic disaster, it is now time that governments initiate a quick agrarian reform and long-term rural development.
Sri Lankan Women's Contribution to Agroecology
Prior to the Green Revolution in the 1960s traditional farming used to be carried out under the leadership of women. Women had profound knowledge about every critical step of crop cultivation including seed germination, seed conservation, sowing, harvesting, and harvest conservation. Since a woman gives birth, feeds, and nurtures a child by offering the healthiest food, she stands in favor of cultivating non-toxic crops. Hence, women have always been pioneering supporters of agroecology. It is time that we dismantle this commercial, company-based farming and show confidence in these women to explore their traditional knowledge of crop cultivation. Altogether, a systemic shift towards sustainable agriculture will lower environmental degradation and promote technological and societal revolution helping the nation adapt to global dynamics.
Making Sri Lanka a largely self-sufficient Country is possible
The spread of agroecological practice in Sri Lanka has unique benefits for its people. As Sri Lanka continues to suffer from the current socio-economic crisis and staple foods are imported with great difficulty due to lack of foreign reserves, there is an urgent need to promote such a practice. Making Sri Lanka more self-sufficient in food production is the only viable and sustainable future possible, and the massification of agroecological farming is the most appropriate way to achieve this.
The spread of agroecological farming in Sri Lanka is a major component of the community ecosystems that Renaissance Sri Lanka is building to empower entire villages of Sri Lanka. More information can be found here.
Recordings of the Webinar
For those who wish to further explore the topics mentioned above, you can watch the recordings of each webinar.
We provide you below the recording of the first webinar. To watch the three others, simply become a monthly donor.
Webinar 1 – Why organic? Grow right, eat right  
© Renaissance Sri Lanka, MONLAR, Greenfem